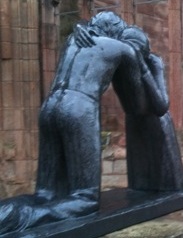 Information that may help you to think about what therapy means: The emotions or feelings that might be involved
Therapy provides a safe and confidential setting in which to explore your thoughts, feelings, dreams, and fantasies. You might wish to explore behaviour that concerns you.
For example:
Psychotherapy might help you:

If you are about to become a parent and you are experiencing complex and confusing feelings or thoughts.
If you feel no joy in life.
If you are fearful in everyday situations.
If you feel detached from the significant people in your life.
If you have panic attacks.
If you are engaging in behaviour that is harmful to you. (For anyone who is drinking an excessive amount of alcohol, or who is talking large amounts of illicit drugs, it may be necessary to deal with this before entering therapy. I am happy to discuss this with you and explain the reasoning behind this.)
If your life seems to lack meaning
If your ability to be creative is blocked. (This area is also one I have experience in and it is one of my interests. I work with writers, actors, and musicians.)
If you have experienced something traumatic in childhood or later in life. (This is also an area where I have considerable experience and it is one of my interests.)
If you feel you lack confidence and you are held back when wishing to make progress in your career or relationships.
If you are developing an eating disorder. I have considerable experience, in the NHS and in private practice, of therapy with individuals who are either anorexic or who suffer from bulimia.
If your moods are unpredictable
If your thoughts are obsessive
If you suffer from intense feelings e.g. jealousy
If you have physical symptoms that you believe have their origin in an emotional conflict.
If you are having problems in your relationship with work colleagues

This list is just to give you an idea of some concerns that have influenced people to contact me as a psychoanalytic psychotherapist in Crouch End, North London.

The issues people explore in therapy are very individual.

Information about psychoanalytic psychotherapy

The frequency of therapy can vary from once a week to four times a week. In–depth psychoanalytic psychotherapy is usually three or more times a week as this gives the best opportunity to make conscious the beliefs and ideas that are influencing your current life situation. In-depth therapy requires a serious commitment and it lasts for a number of years.

I aim to see people at a frequency of two, three or four times a week. If, however, you wish to take the process more slowly as you do not feel ready for in-depth analytic work, I can see you once a week, and the aim is then to evaluate the effectiveness of the therapeutic process at a lesser intensity. It may also be the case that you are financially able to afford therapy when it is once a week.

It is the case that private psychotherapy, which is long term, involves a financial commitment. It is important to think about the cost of therapy.

I am occasionally able to offer short-term focused work, for between eight and sixteen sessions, where a specific concern can be addressed e.g. parents struggling to work out access arrangements after a divorce, or a need to find a space in which to think about a medical diagnosis, or the intense feelings that can arise after redundancy or retirement, or feelings that arise after a stillbirth or the birth of a baby who has medical problems. All of these situations can lead someone to enter a long- term therapy but equally, you may feel a period of short term reflection is what you require.

It can, in some circumstances, be advisable to tell your GP when you enter therapy as there are conditions that may appear to be psychological in origin but there may be a physiological component which can be helped by medical interventions.

If you would like to discuss entering therapy, please email me by using the email link on the left of this page, or phone: 020-8374-7045
NORTH LONDON PSYCHOTHERAPY in CROUCH END - in a safe and confidential setting - and surrounding areas in North London or Central London; near to ISLINGTON, HOLLOWAY, MUSWELL HILL, HIGHGATE, and ARCHWAY. Nearest Tubes: FINSBURY PARK, ARCHWAY, HIGHGATE and TURNPIKE LANE